Hey everyone, I'm Sierra! So at first when Eva asked me to write for Robin Hood week I'd planned on something completely different than this, but plans changed. Now you're going to get to hear about some very old legends and myths about Robin Hood. I really hope I don't bore everyone to death, really I don't. This was a lot of fun researching, but when I started writing this started to sound like a very boring scholarly piece. Anyhow, to make it hopefully less boring I've construct a sort of timeline of major legends or myths starting when the figure of 'Robin Hood' first appeared up until the Sherwood 'version' of Robin Hood in the late 17th Century.
The 13th Century
Here we find the very first references to Robin Hood. There are no stories, legends, or anything very interesting at all, actually. All there seems to be is the new name 'Robinhood', 'Robehod' or 'Robbehod' cropping up in different 'legal' papers. All it seems to tell of is a man (or men) who had taken to the woods for some reason or another. So, it's possible one of these men started the actual legend of Robin Hood, though I doubt we will ever know.
The 14th Century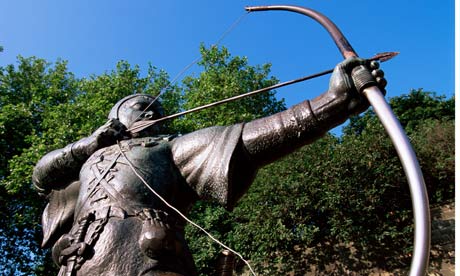 Now we find something interesting, although there's not much to go off of. First, William Wallace (Braveheart, anyone?) is referred to as Scottish Robin Hood in 1304. Second, around 1362-1386 we find the very first literary reference to Robin Hood in William Langland's Piers Plowman. Interestingly the poem is actually about the search for the authors meaning in his Christian life in the light of Medieval Catholic rule.
"I know not perfectly my Paternoster as the priest it sings, but I know rhymes of Robyn Hood and Randolf Earl of Chester."
And for the sake of your sanity I found you a translated version, because the old English version is like a code.
The 15th Century
I promised this wouldn't be boring, and the 15th Century is far from it. Guys, here we find the first reference to Robin Hood living in the woods with his merry men!
First we find a verse in a very old chronicles written around 1420:
Lytil Jhon and Robyne Hude Wayth-men ware commendyd gude In Yngil-wode and Barnysdale Thai oysyd all this tyme thare trawale.
See look, there's Little John and Robin 'Hude'. We also see Barnesdale mentioned for the first time, which is later referenced in other legends of Robin Hood. As for the last bit…I couldn't find a good translation anywhere so your guess is as good as mine about what it means. Then not long after another mention crops up of Robin Hood and his men living in the woods like insurrectionist:
"who having no liflode, ne sufficeante of goodes, gadered and assembled unto him many misdoers, beynge of his clothynge, and, in manere of insurrection, wente into the wodes in that countrie, like as it hadde be Robyn Hude and his meyne."
Have fun deciphering all that :P Anyhow, the comment wasn't actually about Robin Hood, but a man in Derbyshire who had apparently acted in the same way as this 'Robyn Hude' (note they're still spelling 'Hood' as 'Hude' although the first name spelling has changed).
But it gets better because by 1450 you find what most people consider the first real 'tale' of Robin Hood, which is actually a ballad called A Lyttell Geste of Robyn Hode (A Little Tale of Robin Hood). In this lengthy ballad you find the origins to many common Robin Hood stories such as the contest with the silver/gold arrow. This is also the first time Robin is referred to as a 'good' outlaw whereas previously all association with 'Hode' has been rather negative.
Then another ballad pops up, which is relatively popular one called Robin and the Monk. Here's a link to a pretty loose, but easy to read
the translation of the ballad
. Both of these ballads bring in Much, Little John, Will Scarlet, Nottingham, and the Sheriff!
16th Century
Hey, Shakespeare fans (yes Eva, I'm talking to you and a bet you didn't know this.) But William Shakespeare did make references to Robin Hood in The Two Gentlemen of Verona and As You Like It. The first reference is made when Valentine is banished and is approached by outlaws in the woods who say, "By the bare scalp of Robin Hood's fat friar, this fellow were a king for our wild faction!" and once again When the exiled Duke Senior gets brought up in a conversation and Charles says that he's "already in the forest of Arden, and a many merry men with him; and there they live like the old Robin Hood of England."
17th Century
This is when Robin is first portrayed as the Earl of Huntington, although the legend talks of events that happened 400 years before (around the year 1247) the context of the story is even considered fictional because Robert Earl of Huntington is such a shadowy figure. But this inscription was supposedly found on a tombstone at the birth place of the Earl:
Here underneath this little stone
Lies Robert Earl of Huntington
Never archer there as he so good
And people called him Robin Hood
Such outlaws as him and his men
Will England never see again
In another ballad we find a story involving Alan-a- Dale and Robin rescuing his lover from an old knight who had purchased her. It's a very entertaining tale.
Also, up until the 17th Century Marian was never really a part of the ballads even though she had become a part of the legend (though sometimes by the name Matilda) via France. Actually…it's a pretty interesting story, but much too tell or explain. . But if you want to read about the early Marian/Robin go look into Adam de la Halle's Le Jeu de Robin et Marion (Year 1283) Anyhow, back to the point, in the late 17th Century a ballad called Robin Hood and Maid Marian appears. In the tale Robin is still being referred to as the Earl of Huntington The story is absolutely epic since it involves Marian living in the woods as part of Robin's gang. And below I included two of my favorite verses. *sigh* It's so beautiful.
The Earl of Huntington, nobly born,
That came of noble blood
To Marian went, with a good intent,
By the name of Robin Hood.
With kisses sweet their red lips meet
For she and the earl did agree;
In every place, the kindly embrace,
With love and sweet unity.
18th Century
Honestly not much changed in the ballads during this time...and if you think about it I'm sure the world was a bit more concerned with things other than Robin Hood. There are some poets who draw upon his character, but many of them are little known and stray from the popular idea of Robin Hood. Many make him out to be rather stupid and even violent.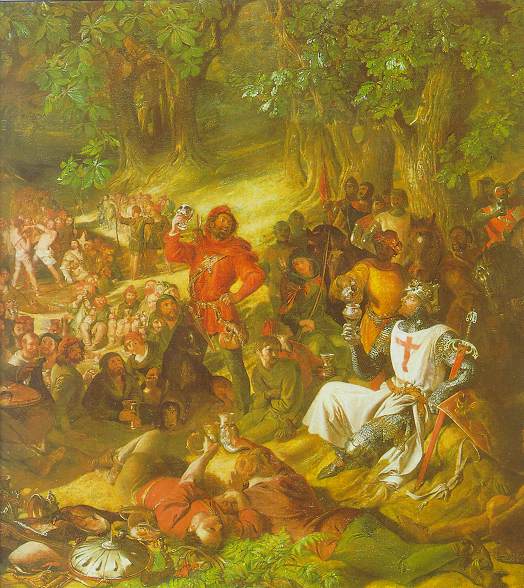 Robin of Locksley and Sherwood Forest
However, in the 19th Century we find Sir Walter Scott's Ivanhoe and the first mention of what we consider to be our modern day Robin takes place. Locksley, a supporter of Richard the King Lionheart is presented once again as a merry and noble gentleman helping the King and Wilfred Ivanhoe fight against the Templars. Add in a few other books, movie productions, and TV shows and you end up with our modern image of Robin.